SHOP / HIRE HISTORICAL & PUBLIC AGENCY COSTUMES - STAR COSTUME BELFAST , HIRE OR BUY
Search:
---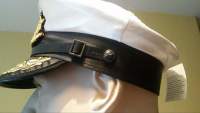 STAR COSTUMES offer Police and other Agency uniforms FROM : SATURDAY 8TH November 2018.
~Due to UK and Irish law, STAR COSTUMES can only provide costumes to groups and individuals, due to the following rules as many of these costumes are restricted in use. We therefore require for SOME ,current-day, and SOME historical police (UK AND Ireland) costume hire , the following:
Either Collar Number or Force & Station for Police workers ; OR UK FILM & REGISTRATION SCHEME ID NUMBER . These details MUST be provided when ordering.
For SOME of the other Historical, AND Public service wear/costumes, we require copy of your production insurance document; and ID's of your costume wearers. We stress that this is only required for SOME of the costumes. (Please email us for more information) The details of these will be in your order form and will be required before your order can be taken. We require such an order to be paid with credit or debit card. Upon your phone call enquiry, interest, or registration on our site, we will email you with our requirements relevant to your order.
Thank you for your interest and any order and we hope you enjoy them.
livepages::jquery();?>